10 weeks of intensive sessions.
100 hours of live online training.
One-on-one feedback sessions with the trainer
Study handouts, mock tests, and final PEBC exam grand tests
Exclusive tips on approaching the PEBC exam
Why Become a Pharmacist in Canada?
₹64 Lakh
Annual salary of registered pharmacists in Canada
16,000+
Current openings for the role of registered pharmacist
4%
Rise in the salary of registered pharmacist every year
500,000
Visas for skilled workers in Canada
About The Course
1
The Pharmacy Examining Board of Canada (PEBC) exam is a comprehensive assessment conducted by The Pharmacy Examining Board of Canada for pharmacists seeking registration to practise in Canada.
2
PEBC Pharmacy Exam Miles course covers crucial content, offering guidance and resources to boost success in the PEBC exam.
3
Secure lifetime membership to our private chat group, led by experienced pharmacists. Access free webinars on CV writing and mastering job-securing techniques.
4
By clearing this exam, international pharmacists can become and practise as registered pharmacists in Canada.
Who Is The Course For?
Foreign-trained pharmacists who want to practise, migrate, and settle in Canada.
Pharmacists taking the PEBC exam for the first time.
Those who want to take the examination with complete preparation.
What's More That
Comes With Our Course?
1. Daily Q&A session
Have doubts about the course content or need guidance to fast-track your career or facing roadblocks while studying? We got you covered. We come LIVE daily and answer any question you have.
2. live sessions on our platform
We understand sometimes coming LIVE during our sessions can be difficult. So if you miss, dont worry, you can view the recording of our live sessions in our platform.
3. Lifetime Course Access
Our course content and study materials are available to you even after completion of the course. Until and unless you pass the exam, we would not revoke your access.
4. Community for Lifetime
You learn and grow best when you are surrounded by like-minded people. You will be made part of a community where you can network, share opportunities, and build relations with your peers and alumni.
Explore The Full Curriculum
MODULE 1
Strategies to approach the exam

Exam pattern

Basics of the exam syllabus
MODULE 2
Inflammatory bowel disease

Liver diseases

Peptic ulcer diseases

GERD

Diseases and their medications

Drugs affecting GI motility
MODULE 3
Haemostatic disorder

Anaemia

Coagulation disorders

Dysthymias

Heart failure

Hypertension

Myocardial infarction

IHD

Dyslipidaemia

Diseases and their medications

CVS introduction
MODULE 4
Tendonitis and sports injuries

Postoperative pain

Multiple sclerosis

Chronic pain

Rheumatoid arthritis

Osteoporosis

Diseases and their medications

Introduction to musculoskeletal
MODULE 5
Smoking cessation

Croup

COPD

Asthma

Diseases and their medications

Introduction
MODULE 6
Intrauterine devices (IUDs)

Emergency pills

Birth control

Hormonal cycles

Diseases and their medications

Introduction
MODULE 7
Bone disorders

Diabetes mellitus

Pathophysiology and therapeutics of

Anatomy and physiology of endocrine organs
MODULE 8
Alzheimer disease

Headache

Eating disorders

Bipolar disease

Stroke

Schizophrenia

Depression

Insomnia

Seizure

Parkinson disease

ADHD

Pathophysiology and therapeutics of

Pharmacology of CNS medications

Autonomic pharmacology

CNS Receptors
MODULE 9
Prescription processing and product preparation

Professional pharmacy practice skills

Patient care process
MODULE 10
Collaborative patient care

Medication/patient safety

Pharmacoepidemiology

Evidence-based medication

Drug information

Patient counselling
MODULE 11
Professional ethics

Pharmacy laws
MODULE 12
Pharmacogenomics and genotyped prescribing

Molecular biology and genomics
MODULE 13
Dosage calculations

Prescription calculations
MODULE 14
PK Calculations
MODULE 15
Antimicrobial agents

Bacterial diseases

Introduction
MODULE 16
Viral infection

Sunburn

Onychomycosis

Scabies

Impetigo

Dry skin

Diaper rash

Dermatomycosis

Cellulitis

Burns

Contact dermatitis

Rosacea

Acne

Diseases and their medications

Introduction
MODULE 17
Urinary incontinence

Benign prostrate

Urinary tract infection

Diseases and their medications

Introduction
MODULE 18
Biostatics
MODULE 19
Drug delivery system

Introduction
MODULE 20
Pharmacoeconomics

Canadian healthcare system

Pharmacy management
MODULE 21
Drug receptors interactions

Drug receptors
MODULE 22
Final Mock Test

Crash Memorisation II

Crash Memorisation I

Topic Revision II

Topic Revision I
Meet The Instructors
Our Testimonials
Anu Thapa
Firstly, i am very grateful towards academically team. It has been a month being student of Academically.They focus in the specific, relevant and important content which they are assisting us to Crack KAPS. In this period, i found they are concentrating on Quality rather than Quantity. I am very delightful because of your guidance and support.
Vikram Sharma
I think in the field of KAPS preparation there is no one in the competition. Apart from the teaching staff(Arif sir and Harika mam) the non teaching staff(Siddharth sir, Neha mam and all) is also very helpful. Only words are not enough to thank academically team.
Dharmendra Gupta
Very good Academically plateformfor your nice dream health professional to achivement for other countries like Australia
Tanu Saini
All team members are really good in terms of teaching both tutors are really helpful and kind as well … u can ask ur doubts anytime and special thanks to Akram sir who always motivates everyone. I highly recommend this academy to everyone who wants to achieve their goal in healthcare sector. They made everything easy and precise for you.
Nitu Kushwaha
The trainers try to make each session interesting, and I love the way they interact with students. Test-taking strategies are super useful.
Jatinder Kaur
I like academically for their teaching and support for the APC exam for international physiotherapist student.
Gladys James
I came to know about academically through Instagram. I have being a part of this family since 1 month. I have joined for both PTE and APC classes. Classes are really good. As a working person, i thought it will be difficult for me to attend classes, but the recordings provided by the team is really helping me a lot. I would like to appreciate the team for the both the LMS and discord applications, which is making my exam journey easier.
Dorcas Grace
Good guidance.. for how to approach the AMC (Australian Medical Council) exam and comprehensive review.
Susan Laka
Greetings from Papua New Guinea. At first I didn't know where to start and how to approach the AMC MCQ exam. Since June 2023 when I started this sessions on AMC preparation the story is different now. The Two lecturers Namely, Dr Swapnil and Dr Udara are exceptionally committed and deliver well. The team is always available to answer to us anytime. They provide great support. I have not done the skill assessment yet, hoping to get that done this week and hopefully I will sit for the exam in November 2023.
Rahul Rajput
The session was informative and worthy. I got to know more career options about the field which currently I'm pursuing. Working internationally, career options overseas, information about pharm. D and MD, etc are the things which is new for me and actually very informative. Interacting with the guest was really helpful and had influenced me positively.
Aadil Habib
Hello. Its been 3 months since I have joined Academically. The journey has been amazing by far. The lecturers are really helpful and great. The support is great at Academically. Would love to give +1 star for the support if I had an option.
Athira Raju
Academically is a great platform to achieve our dream. I recently joined but the classes they providing is very informative and understandable and they always ready to help and clarify our doubts regarding our KAPS preparation. Thank you so much to team Academically for your valuable support.
Md Imteyaz Ahmad
Academically is an organisation which able to qualify the Australian KAPS exam. I have good experience with academically. It's provides all necessary knowledge and stuffs for the KAPS.
About The PEBC Examination
What is the
PEBC Exam?
The Pharmacy Examining Board of Canada (PEBC) exam is a series of competency-based assessments for internationally trained pharmacists who wish to work in Canada. The purpose of the exam is to ensure that internationally qualified pharmacists have the necessary knowledge to practise safely and effectively within the Canadian healthcare system. Once you clear this exam you can apply for a job, earn well, and get a PR Visa.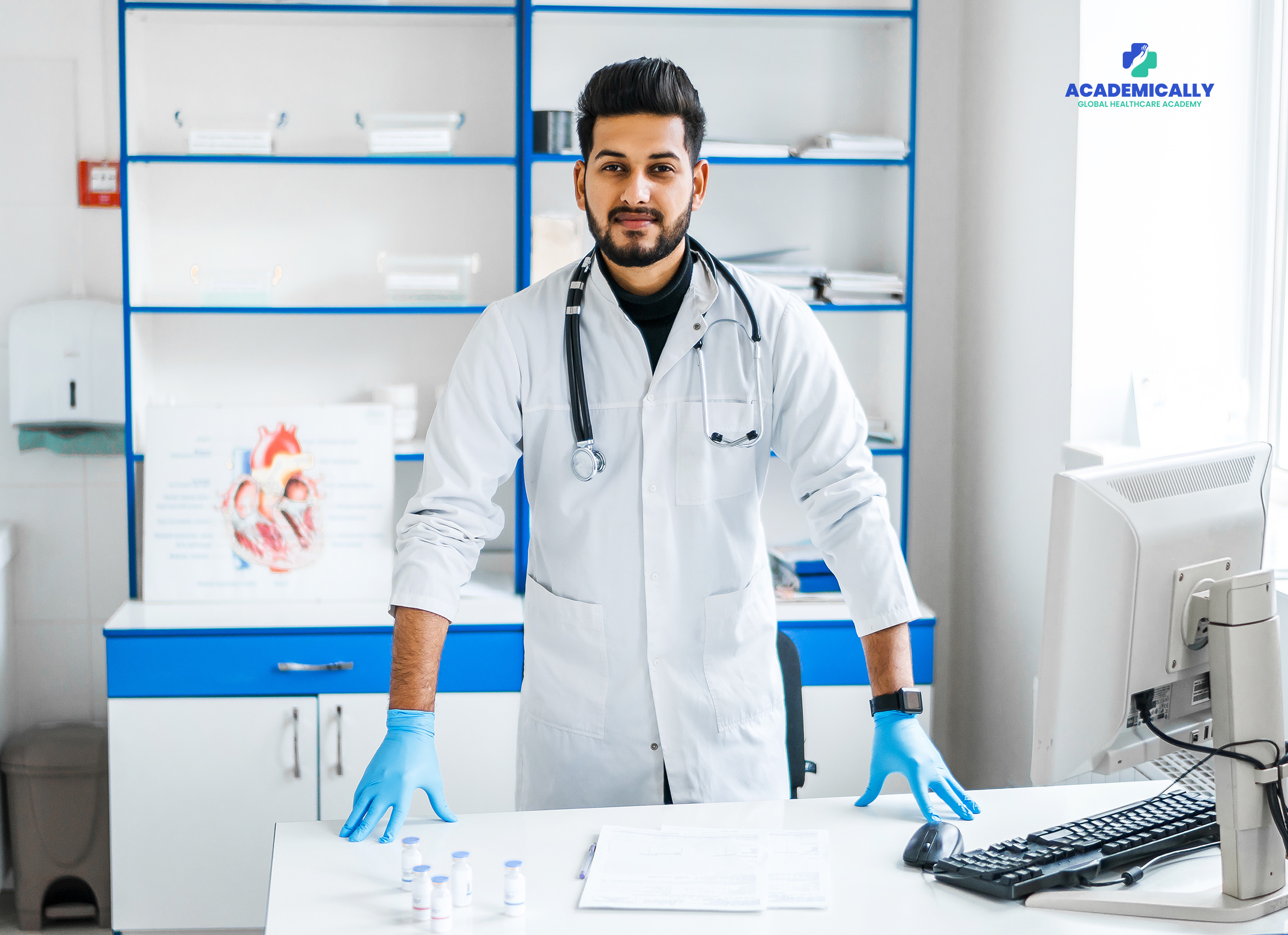 PEBC Exam

Eligibility Criteria

To be eligible to write the PEBC Exam, a pharmacist must have the following:
Bachelor of Pharmacy (B.Pharm) or Doctor of Pharmacy (PharmD) degree, including provisional degrees.
BPharm/PharmD transcripts or consolidated mark sheets.
Active registration with the state pharmacy council in your home country as a practising pharmacist.
Valid passport.
Although not mandatory, any relevant working experience can be included.
Procedure for
PEBC
1. Document Evaluation
The initial phase involves an assessment of your educational and professional credentials. Successfully passing this evaluation is a prerequisite to move on to the next phase, which is the Pharmacist Evaluating Examination (PEE).
2. The Pharmacist Evaluating Examination
Upon meeting the requirements of the document evaluation, you'll proceed to the Pharmacist Evaluating Examination. It serves as a pivotal step for internationally-educated pharmacists seeking licensure in Canada.
Passing this exam is essential to qualify for the subsequent phase, which is the Pharmacist Qualifying Examination - Parts I (MCQ) and II (OSCE).
3. The Pharmacists Qualifying Examination
The final stage of your journey towards PEBC certification is the Pharmacist Qualifying Examination. Successful completion of both Part I (MCQ) and Part II (OSCE) of this examination signifies that you are now certified and officially registered with PEBC.
Exam Format
The Pharmacist Evaluating Examination is a streamlined, single-day computer-based assessment. The exam happens within a condensed timeframe of 4.25 hours, offering candidates a focused and efficient examination experience. Candidates must score at least 60% of the total possible score (200), to successfully pass the examination.
Testing Centres
Testing Centres in India PEBC has collaborated with Prometric to establish supervised testing centres for the administration of their exams. There are 7 test centres in India, which include: Ahmedabad, Bangalore, Chennai, Gurgaon, Hyderabad, Kolkata and Mumbai.
Frequently Asked Questions
The test for pharmacy in Canada typically refers to the series of exams administered by the Pharmacy Examining Board of Canada (PEBC).
Pharmacists who have completed their Bachelor's degree or Doctorate can apply for the PEBC Exam.
Yes, you can appear for the PEBC Exam from the test centres in India. There are a total of 7 exam centres for PEBC in India.
The Pharmacy Examining Board of Canada (PEBC) exams are primarily intended for individuals who wish to become licensed pharmacists in Canada.
An Indian pharmacist license is not automatically valid in Canada. If you're an Indian pharmacist and you wish to practise pharmacy in Canada, you would generally need to go through a process to have your credentials recognized and to obtain the necessary Canadian pharmacist license i.e. The Pharmacy Examining Board of Canada (PEBC).
In general, it is quite challenging to work as a licensed pharmacist in Canada without completing the required assessments and obtaining the necessary licensure through the Pharmacy Examining Board of Canada (PEBC).
PEBC Evaluating Exam: $880, approximately INR 74000, PEBC Qualifying Exam (Part-I) (MCQ): $825, approximately INR 68000, PEBC Qualifying Exam (Part-II) (OSCE): $1855, approximately INR 1,53,000. In total, it will take approximately 2.5 lakhs.
Pharmacists are acknowledged by the Government of Canada as a sought-after occupation, holding in-demand status and presenting opportunities in each province.
Candidates have the opportunity to undertake the Pharmacist Evaluating Examination up to four times.
Yes, pharmacists have the opportunity to apply for permanent residency (PR) in Canada through various immigration pathways. Canada offers several immigration programs that allow skilled professionals, including pharmacists, to apply for PR and settle in the country.
Upon submission of the necessary documentation, the PEBC will require approximately 8 weeks to finalize the document evaluation process.
Our Services Are Way Beyond Exam Preparations!
Resume Tips
Get proven tips from experts on building a robust resume to help you land your dream job.
Interview Preparation
Chisel your interview skills to ensure you mesmerise the interviewers into giving in.
Career Support
Receive support at each step of your journey- during your exam preparation and beyond.
Connect with our 100+ alumni working at recognised organisations