6 weeks of intensive sessions
50 hours of live online training
Question banks and mock exams
Individual feedback sessions with the trainer
Training by certified trainers with 20+ years of teaching experience
Why take the OET Exam?
50,000+
Students appear for OET every year
200+
Test Centres in the world
About The Course
1
OET is accepted in several countries to verify the English language proficiency of healthcare professionals from around the world.
2
The OET exam has four sections including Listening, Reading, Writing and Speaking. The questions of the exam generally revolve around various healthcare topics and our course is prepared with OET customised practice sessions, regular tests, and high-quality study materials.
3
The OET preparation course by Academically will train you thoroughly for the sub-tests of listening, writing, reading, and speaking.
Who Is The Course For?
Healthcare professionals aiming to migrate to countries like Australia, Canada, New Zealand, the UK, etc.
First-time OET takers who wish to take on the exam with thorough preparation.
Candidates applying for visas (work, study or family visa) in Canada, Australia, the USA, the UK, etc.
What's More That
Comes With Our Course?
1. Daily Q&A session
Have doubts about the course content or need guidance to fast-track your career or facing roadblocks while studying? We got you covered. We come LIVE daily and answer any question you have.
2. live sessions on our platform
We understand sometimes coming LIVE during our sessions can be difficult. So if you miss, dont worry, you can view the recording of our live sessions in our platform.
3. Lifetime Course Access
Our course content and study materials are available to you even after completion of the course. Until and unless you pass the exam, we would not revoke your access.
4. Community for Lifetime
You learn and grow best when you are surrounded by like-minded people. You will be made part of a community where you can network, share opportunities, and build relations with your peers and alumni.
Explore The Full Curriculum
MODULE 1
Training for the listening component of the exam which includes listening to a variety of healthcare-related audio recordings and answering questions based on what you hear.
MODULE 2
Training for the reading component of the OET exam which includes reading and answering questions from healthcare-related texts.
MODULE 3
Training for the speaking component of the OET exam which includes face-to face interaction with an interlocutor.
MODULE 4
Training for the writing component of the OET exam which includes profession-specific writing tasks based on the case notes and information provided.
Meet The Instructors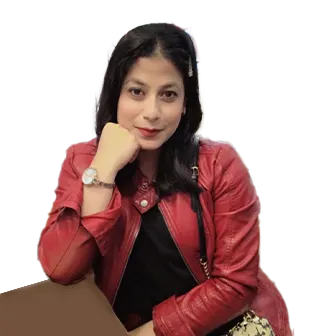 Dr. Saiqa Khan
PhD in English Literature
5 years of Experience
I am an English Language Instructor specialising in preparing individuals for the Occupational English Test (OET). I have completed my Master's Degree in English Literature, and am currently pursuing a Ph.D. in English Literature. I possess an experience of over 4 years as an English language educator and 2.5 years as an OET trainer. My experience as an OET trainer has granted me insight into the specific linguistic challenges faced by professionals in various fields, and I take pride in helping them overcome these obstacles.
Know More
Our Testimonials
Anu Thapa
Firstly, i am very grateful towards academically team. It has been a month being student of Academically.They focus in the specific, relevant and important content which they are assisting us to Crack KAPS. In this period, i found they are concentrating on Quality rather than Quantity. I am very delightful because of your guidance and support.
Vikram Sharma
I think in the field of KAPS preparation there is no one in the competition. Apart from the teaching staff(Arif sir and Harika mam) the non teaching staff(Siddharth sir, Neha mam and all) is also very helpful. Only words are not enough to thank academically team.
Dharmendra Gupta
Very good Academically plateformfor your nice dream health professional to achivement for other countries like Australia
Tanu Saini
All team members are really good in terms of teaching both tutors are really helpful and kind as well … u can ask ur doubts anytime and special thanks to Akram sir who always motivates everyone. I highly recommend this academy to everyone who wants to achieve their goal in healthcare sector. They made everything easy and precise for you.
Nitu Kushwaha
The trainers try to make each session interesting, and I love the way they interact with students. Test-taking strategies are super useful.
Jatinder Kaur
I like academically for their teaching and support for the APC exam for international physiotherapist student.
Gladys James
I came to know about academically through Instagram. I have being a part of this family since 1 month. I have joined for both PTE and APC classes. Classes are really good. As a working person, i thought it will be difficult for me to attend classes, but the recordings provided by the team is really helping me a lot. I would like to appreciate the team for the both the LMS and discord applications, which is making my exam journey easier.
Dorcas Grace
Good guidance.. for how to approach the AMC (Australian Medical Council) exam and comprehensive review.
Susan Laka
Greetings from Papua New Guinea. At first I didn't know where to start and how to approach the AMC MCQ exam. Since June 2023 when I started this sessions on AMC preparation the story is different now. The Two lecturers Namely, Dr Swapnil and Dr Udara are exceptionally committed and deliver well. The team is always available to answer to us anytime. They provide great support. I have not done the skill assessment yet, hoping to get that done this week and hopefully I will sit for the exam in November 2023.
Rahul Rajput
The session was informative and worthy. I got to know more career options about the field which currently I'm pursuing. Working internationally, career options overseas, information about pharm. D and MD, etc are the things which is new for me and actually very informative. Interacting with the guest was really helpful and had influenced me positively.
Aadil Habib
Hello. Its been 3 months since I have joined Academically. The journey has been amazing by far. The lecturers are really helpful and great. The support is great at Academically. Would love to give +1 star for the support if I had an option.
Athira Raju
Academically is a great platform to achieve our dream. I recently joined but the classes they providing is very informative and understandable and they always ready to help and clarify our doubts regarding our KAPS preparation. Thank you so much to team Academically for your valuable support.
Md Imteyaz Ahmad
Academically is an organisation which able to qualify the Australian KAPS exam. I have good experience with academically. It's provides all necessary knowledge and stuffs for the KAPS.
About The OET Examination
What is the
OET Exam?
The OET exam is a standardised test that evaluates the English language proficiency of healthcare professionals who are trained overseas before migrating to English-speaking countries. The Occupational English Test (OET) is designed in such a way that the candidate's language skills in the areas of listening, reading, writing and speaking are thoroughly tested. The test can be taken on a computer and the candidate must be available for a full day to complete the test.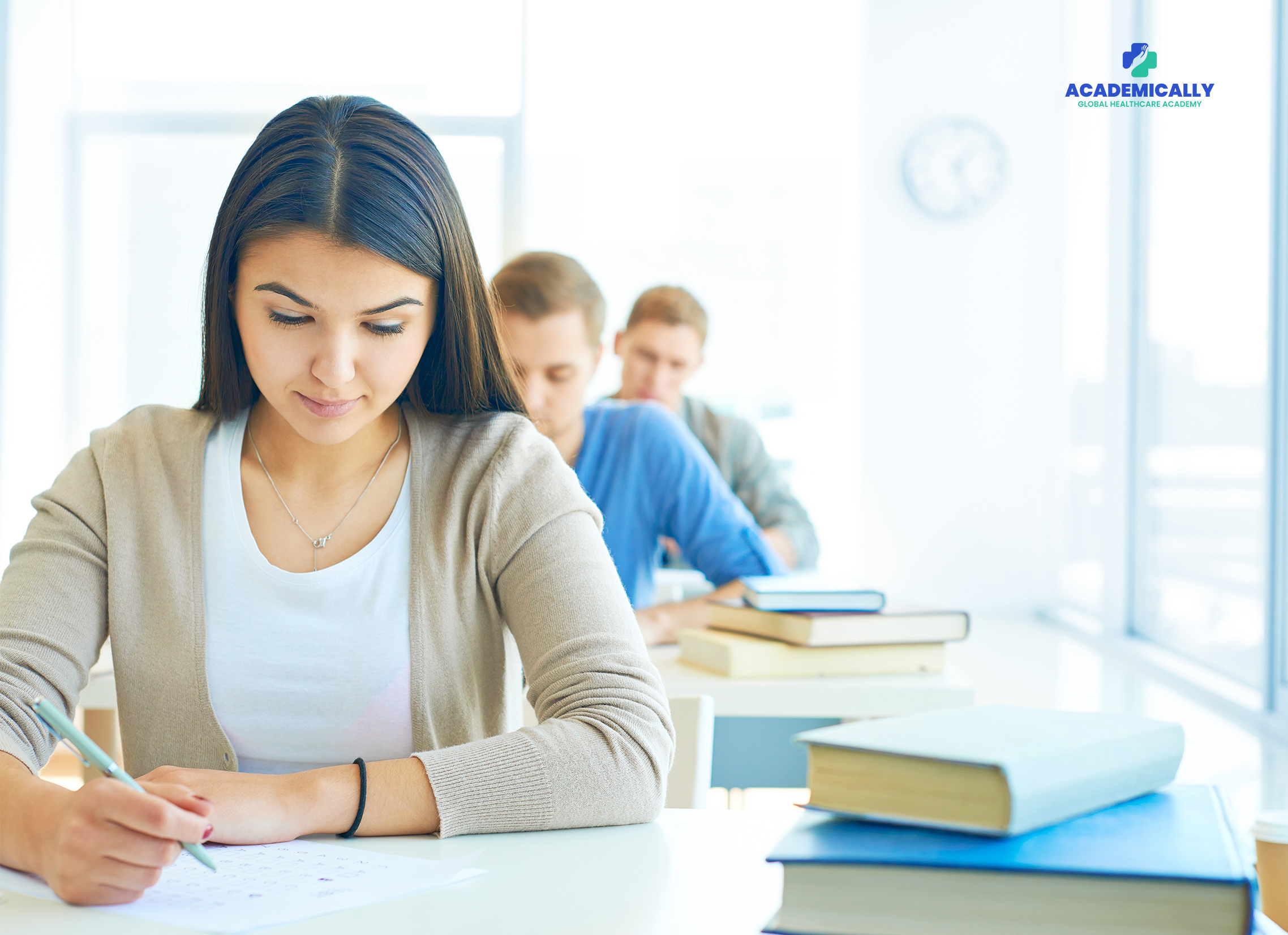 OET Exam

Eligibility Criteria

Since this English proficiency test is exclusively for healthcare professionals, there are certain eligibility requirements to be met.

The candidate must be at least 18 years of age to be eligible to write the exam

The candidate must have a minimum level of education that is equivalent to secondary education
Procedure for
OET
1. Registration
You can choose to write your OET exam on paper, on a computer, or at home. You can schedule your exam by finalising the date for the exam and finishing the fee payment. The venue will be informed in advance.
2. The OET Exam
You can attend the exam and complete the included sections of reading, writing, listening, and speaking, as instructed.
3. Results
The OET results are generally published 12 business days after the test date.
Exam Format
OET provides 12 different versions of the test for various healthcare professionals: Nurses Doctors Dentists Pharmacists Optometrists Podiatrists Occupational therapists Vets Speech pathologists Dieticians Physiotherapists Radiographers The OET exam includes four different sub-tests.
The four sections included are: Listening Component - 50 minutes, Reading Component - 60 minutes, Writing Component - 45 minutes, Speaking Component - 20 minutes.
Testing Centres
Testing Centres in India There are multiple testing centres for OET across different regions in India. Calicut, Angamaly, Thrissur, Kochi, Kollam, Kottayam, Trivandrum, Mumbai, Coimbatore, Delhi, Gurgaon, Haryana, Ghaziabad, Chennai, Hyderabad, Bangalore, Punjab, Kolkata, Ahmedabad, Pune, Jaipur, Indore and Visakhapatnam.
Frequently Asked Questions
It will take around 3 hours to complete the written tests and 20 minutes to complete the speaking test.
The validity of an OET certificate is 2 years.
The OET exam score ranges from 0-500 which are converted into grades from A to E, where A is the highest grade and E is the lowest grade.
The candidate can have as many OET attempts as he/she prefers.
The maximum age limit for a candidate to take the OET exam is 35.
Countries like Canada, Australia, Malta, Ireland, Maldives, Namibia, New Zealand, Philippines, Qatar, Singapore, Spain, Ukraine, United Kingdom, United Arab Emirates, and the United States of America accept OET.
Preparation time for the OET exam can range from 5 days to one month or more depending on the individual.
While it is not mandatory that the candidate should bring his passport, he should provide his valid passport or a valid national ID to verify his identity.
OET stands for Occupational English Test.
There are 12 healthcare professions including dentistry, dietetics, medicine, nursing, occupational therapy, optometry, pharmacy, physiotherapy, podiatry, radiography, speech therapy, and veterinary science.
Our Services Are Way Beyond Exam Preparations!
Resume Tips
Get proven tips from experts on building a robust resume to help you land your dream job.
Interview Preparation
Chisel your interview skills to ensure you mesmerise the interviewers into giving in.
Career Support
Receive support at each step of your journey- during your exam preparation and beyond.
Connect with our 100+ alumni working at recognised organisations